ArmorCrest

Tool Lanyard

Special Order Item - Limited Inventory in Stock

Model LN470 Three Piece Set - 2.2 pound tool load at maximum cable length

Lanyard: 1mm 7x7 braided nickel plated stainless steel cable, translucent red polyurethane coated to make 3mm thickness, coiled, nickel plated caribiner and ring ends, 67" maximum extended length, breaking strength of cable up to 110 pounds, breaking strength of caribiner and ring ends up to 167 pounds


Tool loop: 0.8mm 7x7 braided nickel plated stainless steel cable, nylon coated to make 1mm thickness, fused copper end, 13" total length of loop, breaking strength up to 110 pounds


Belt loop: Made from black Polypropylene and Tetoron polyester fibers, breaking strength up to 220 pounds

Each piece is individually packaged. 50 pieces per box. 4 boxes per case. (200 total pieces per case.) Sold by the box only.
For workers who perform duties at heights with tools. Whether on a high ladder, scaffolding, racking system, roof, lift equipment, etc., you need to ensure the safety of those working below. When securely tethered, this lanyard helps protect your tools from fall damage and keep safe workers below from injury. The nylon coated steel cable fits through a hole in the tool and is then connected to the lanyard. The other end of the lanyard is then connected to a belt loop or beam or something else at height to keep it from falling a distance. Constructed with premium quality 7x7 braided stainless steel cables for optimum performance.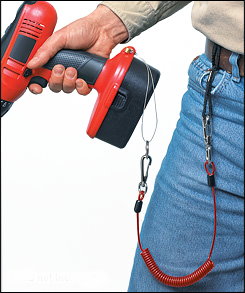 7 x 7 wire construction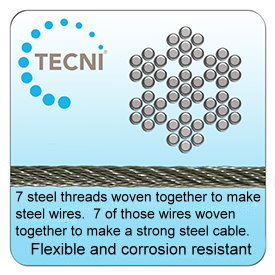 Made in Taiwan